Piotr Anderszewski, Klavier Yuki Kasai, Leitung und Konzertmeisterin Münchener Kammerorchester
Werke von Mozart, Birtwistle und Veress
Infos
2. ABONNEMENTKONZERT 19.11.2020, 18:00 UHR / 20:30 UHR PRINZREGENTENTHEATER
SAISONPROGRAMM
WERDEN SIE MITGLIED IM FREUNDESKREIS DES MÜNCHENER KAMMERORCHESTERS!
Als Freundeskreismitglied sind Sie näher ›dran‹ und fördern kontinuierlich die Arbeit des MKO. Sie stärken den gesellschaftlichen Rückhalt des Orchesters und seine Verankerung in der Münchener Kulturlandschaft.
Mitglied werden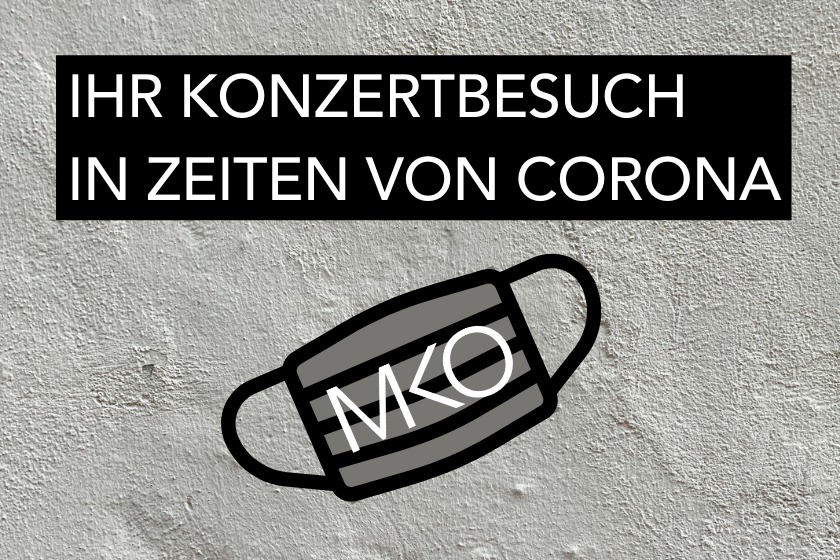 Your safety and that of the artists* and staff* is our top priority. Please observe the following protective measures for your visit to the concert. Changes to these measures are possible and will be published here at short notice.

CONSIDERATION
If you have had contact with a person with COVID-19 within the previous 14 days, have been in a risk area, or feel ill, please stay at home.
DISTANCE
The possible single and couple seats in the Ascension Church are marked. Within these seats there is free choice of seat. In the Prinzregententheater fixed seats are allocated.

MASK DUTY
Please wear a mouth and nose protector when attending a concert. Even if you are in your seat.

HYGIENE
Please use the disinfectant dispensers provided. 

WARDROBE
There is no checkroom in the Himmelfahrtskirche Sendling. The Prinzregententheater, however, can offer a checkroom.
NEW NEIGHBOURS
Corona-related adjustment of the season 20/21
Since currently only 200 visitors are allowed at Prinzregententheater and the duration of an event is limited, we have decided to play our subscription concerts twice each evening this season with a slightly shortened program and without a break until further notice. So there will be one event at 6 pm and another one at 8.30 pm.
We can definitely guarantee all our full subscribers a seat in the eight subscription concerts.
All elective subscribers are exceptionally requested to contact us early if they wish to attend a subscription concert.
We have also already asked the 3-subscribers, as we do every year, to let us know the three concerts they would like to hear. If you have an urgently preferred time, please let us know by e-mail to abo@m-k-o.eu.

The seats for our elective and 3-person subscribers will be allocated after we have received your orders. Should we not be able to offer you the desired concert due to a high demand for one of the concerts, we regret this very much and would like to ask you to choose another concert as an exception.
However, in order to give elective and triple subscribers the opportunity to spread out better throughout the season, we have decided to offer an additional subscription concert this season. This will take place on Thursday, February 25, 2021 in the Prinzregententheater under the baton of our principal conductor Clemens Schuldt with tenor Mark Padmore, who will perform Benjamin Britten's Serenade for Tenor, Horn and String Orchestra. Also on the program is the German premiere of Thomas Adès' new work (which as a result will not be heard in the 6th subscription concert with John Storgårds).
Elective and triple subscribers can choose this additional concert as part of their subscription. Full subscribers can purchase additional tickets for this concert at your subscription conditions. The Munich Aids Concert, which has been scheduled on this date until now, will be suspended this season.