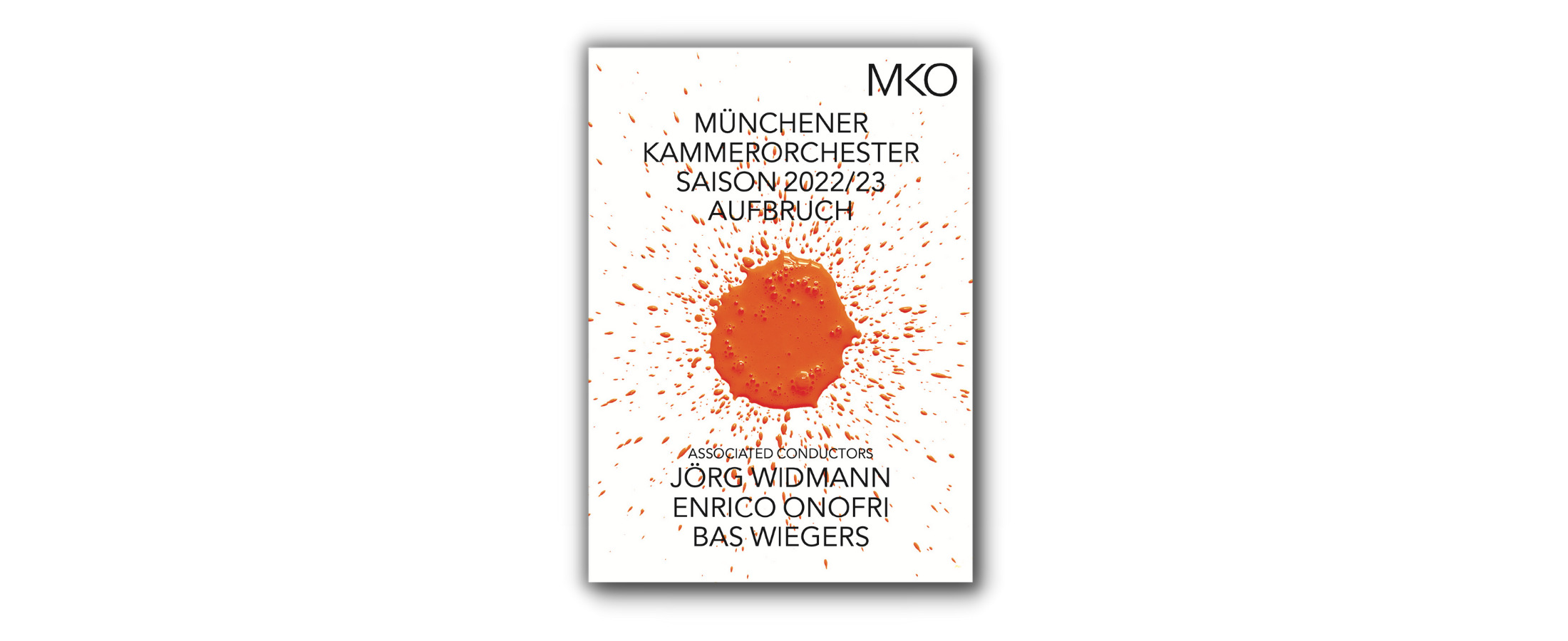 Biographies and photos
Season 2022/23 AUFBRUCH
The Munich Chamber Orchestra (Münchener Kammerorchester, or MKO) is known and acclaimed throughout the world for its varied and thrilling programmes. With great curiosity and open-mindedness, stylistic diversity and a top-calibre performance level, it combines music from past centuries with works of today, relying on powers of association and excitement. It is also constantly on the lookout for innovative concert formats and new cultural synergies, thereby projecting a unique profile on the international orchestral landscape.
A new era dawns for the MKO in the 2022-23 season: for the first time in its over 70-year history the orchestra will depart from its previous organisational structure, with a position for principal conductor, and redefine itself. For the next three years it will work with three 'associated conductors' at once – a unique organisational model based neither on grass-roots democracy nor on a dominant personality. Instead, the new arrangement will further strengthen the MKO's self-reliance and creativity, sharpening its image and quality with three contrasting artistic personalities.
The associated conductors – Jörg Widmann, Enrico Onofri and Bas Wiegers – almost ideally embody the orchestra's broad spectrum and unbridled will to probe new dimensions in music from the baroque era to the present day. Jörg Widmann already worked closely with the MKO as a composer and soloist in the 1990s, while Enrico Onofri, the former concertmaster of the baroque ensemble Il Giardino Armonico, is a pioneer in period performance practice. Bas Wiegers, a baroque violinist, has also sought to explore historically informed perspectives in modern music. They will be joined by a number of musical friends with whom the orchestra has worked on a regular basis, including Isabelle Faust, Nicolas Altstaedt, Ilya Gringolts, Vilde Frang, Christian Tetzlaff and Alexander Lonquich.
Concerts headed by one of the MKO's two concertmasters, Yuki Kasai and Daniel Giglberger, will remain an important part of its activities. The core of the ensemble consists of 28 permanently employed string players from 14 countries. A stellar group of regular guests from top-tier European orchestras allows the MKO to expand its membership, allowing it to give benchmark performances of masterpieces from the classical-romantic repertoire, and to kindle its audiences' excitement for music over and over again with its energy and commitment.
Founded in 1950 by Christoph Stepp, the MKO was shaped by Hans Stadlmair for over four decades, beginning in 1956. The era of Christoph Poppen (1995-2006) was followed by ten years under the artistic direction of Alexander Liebreich. From 2016 to 2022 the orchestra's principal conductor was Clemens Shuldt. Since then its artistic direction has resided with an artistic board consisting of the two concertmasters, two additional orchestra members, its managing director and its artistic planer. The MKO is subsidised with public funds from the Free State of Bavaria, the City of Munich and the District of Upper Bavaria. Since the 2006-07 season its main official sponsor has been European Computer Telecoms EG (ECT).
The MKO places great store in the dramatic conception of its programmes and on the long-term cultivation and further development of the chamber orchestra repertoire. For decades it has been a unique and bustling workshop for the music of today. It has commissioned and/or premièred a great many new works, receiving pieces from composers of the stature of Iannis Xenakis, Wolfgang Rihm, Tan Dun, Chaya Czernowin, Georg Friedrich Haas, Pascal Dusapin, Erkki-Sven Tüür, Thomas Larcher, Tigran Mansurian, Salvatore Sciarrino and Jörg Widmann. In recent years alone it has commissioned new works inter alia from Beat Furrer, Milica Djordjević, Clara Iannotta, Mark Andre, Stefano Gervasoni, Márton Illés, Miroslav Srnka and Lisa Streich, and is currently working on a violin concerto from Chaya Czernowin, a viola concerto from Dieter Ammann and a piece for string orchestra from Johannes Maria Staud. For some time it has deliberately expanded its repertoire by commissioning works that dispense with a conductor, e.g. by David Fennessy, Younghi Pagh-Paan and Samir Odeh-Tamimi.
In addition to its concert series in Munich's Prince Regent's Theatre, the MKO's 'Nachtmusiken der Moderne' (Serenades of Modernism), held in the unique atmosphere of the rotunda in the Pinakothek der Moderne (Modern Art Gallery), has long achieved cult status. The 'MKO Songbook', in Munich's Schwere Reiter Theatre, has established a format focusing on MKO-commissioned works and music by Munich composers. Chamber music of myriad types also bulks large in the orchestra's activities. Together with the Munich Philharmonic Orchestra, the musicians of the MKO offer the BMW Club Concerts, presenting 'their' music to young audiences in the city's club scene. Viewing music outreach as one of its core tasks, the MKO also has a range of offerings for young and old alike. Moreover, as a new institution slated for the remodelled Gasteig cultural complex in Haidhausen, the MKO is strongly committed to cultural outreach with the Gasteig's other institutions.
The MKO's networking in Munich and its collaborations with local institutions form a major emphasis in its activities. It has repeatedly entered joint projects with the Bavarian State Opera, Bavarian Theatre Academy, Munich Biennale, Villa Stuck, Haus der Kunst, DOK.fest, Schauburg Youth Theatre, Biotopia, Munich University, Munich Technical University, Adult Education Centre and Munich University of Music and Theatre.
Some 60 concerts per year have taken the MKO to renowned concert halls all over the globe, including tours of Asia, Spain, Scandinavia and South America. It has undertaken several guest performances in conjunction with the Goethe Institute; especially noteworthy was an acclaimed academy with North Korea in autumn 2012, where the orchestra had an opportunity to work with North Korean music students.
ECM Records has released recordings of the MKO playing works by Karl Amadeus Hartmann, Sofia Gubaidulina, Giacinto Scelsi, Valentin Silvestrov, Isang Yun, Joseph Haydn, Toshio Hosokawa and Tigran Mansurian. New recordings of music by Thomas Larcher are currently in preparation at ECM, as is a complete recording of Beethoven's piano concertos with the pianist Alexander Lonquich. A number of MKO recordings have been released by Sony Classical, such as Rossini overtures, the Mozart Requiem and Mendelssohn's incidental music to A Midsummer Night's Dream and Fourth Symphony. Others have appeared on the Warner label with the Bavarian Radio Chorus, the flautist Magali Mosnier, the oboist François Leleux and Les Vents Français. Its recordings of music by Georg Katzer, Friedrich Goldmann and Nikolaus Brass were released by NEOS.
Principal conductor of the Filarmonica Toscanini in Parma, principal guest conductor of the Haydn Philharmonie in Eisenstadt, associated conductor of the Orchestre National d'Auvergne, from 2022 Associated Conductor of the Münchener Kammerorchester, music director and conductor of the Academia Montis Regalis orchestra, Enrico grown up in the antique atelier of his parents in Ravenna (Italy), surrounded by the beauty of the past since the beginning of his music studies, developing hence a passion for the historical performances. As a conductor and soloist, he was so led to explore the repertoire from the 17th to the 20th century creating his personal language through the knowledge of the historical praxes, intended as extraordinary sources of inspiration for new ideas and panoramas in interpretation. His career began with an invitation from Jordi Savall to be the concertmaster of La Capella Real when he was still a student. Very soon he found himself working with groups such as the Concentus Musicus Wien, Ensemble Mosaiques, and Il Giardino Armonico, the ensemble he led as concertmaster and soloist from 1987 to 2010. In 2002 he entered upon a conductor's career, which has brought him great acclaim and numerous invitations from orchestras, opera houses and festivals all over Europe, Japan and Canada. From 2004 to 2013 he was the principal conductor of the Divino Sospiro in Lisbon, since 2006 he's guest conductor with the Orquesta Barroca de Sevilla, and since 2021 principal conductor of the Real Câmara Baroque Orchestra in Lisbon.
Invitations as conductor or as conductor in residence include orchestras such as the Akademie für Akademie für Alte Musik, Camerata Bern, Bochumer Symphoniker, Vienna Chamber Orchestra, Festival Strings Lucerne, Kammerorchester Basel, Tafelmusik Toronto, Orchestra Ensemble Kanazawa, Orchestra del Maggio Musicale Fiorentino, Real Orquesta Sinfonica de Sevilla, Orquesta de l'Opéra de Lyon, Orquesta Sinfonica de Galicia, Orchestra Metropolitana Lisbon, Real Filharmonia de Galicia, Riga Sinfonietta and more. In the opera field, he conducted opera productions at the Lyon Opéra, Teatro de la Maestranza of Sevilla, Torino Teatro Regio, Halle Staatstheater, among others, working with stage directors such as Alessio Pizzech, Mariame Clément, David Marton, Stephen Lawless.
He founded the chamber group Imaginarium Ensemble to perform the great Italian solo violin repertoire from the early Baroque until the Age of the Enlightenments. Imaginarium Ensemble's CDs have been awarded many prizes. Among them, the prestigious French Diapason d'or de l'année 2020 for "Into Nature, Vivaldi's Seasons and other sounds from Mother Earth".
Enrico has performed in the world's most famous concert halls, including the Musikverein and Konzerthaus in Vienna, Mozarteum in Salzburg, Philarmonie and Unter den Linden Opera in Berlin, Alte Oper in Frankfurt, Concertgebouw in Amsterdam, Teatro San Carlo in Naples, Carnegie Hall and Lincoln Center in New York, the Wigmore Hall and Barbican in London, Tonhalle in Zurich, Théâtre des Champs-Elysées and Théâtre du Châtelet in Paris, Auditorio Nacional in Madrid, Oji Hall in Tokyo, Osaka Symphony Hall, Teatro Colon in Buenos Aires, alongside artists like Nikolaus Harnoncourt, Gustav Leonhardt, Christophe Coin, Cecilia Bartoli, Katia and Marielle Labèque and more. Many of Enrico's recordings with Teldec, Decca, Astrée, Naive, Deutsche Harmonia Mundi / Sony, Passacaille, Nichion, Pentatone, Winter & Winter, Opus111, Virgin, Zig Zag Territoires etc., have been awarded prestigious international prizes, such as the Gramophone Award, Grand Prix des Discophiles, Echo-Deutsche Schallplattenpreis, Premio Caecilia, Premio Fondazione Cini of Venice, La Nouvelle Academie du Disque and numerous Diapason d'Or, Choc de la Musique, 10 de Répertoire des disques compacts.
Enrico has been professor of baroque violin and interpretation of baroque music at conservatoire A.Scarlatti in Palermo since 1999, currently at conservatoire G.Rossini in Pesaro. He has been invited to give master classes throughout Europe, Canada, USA (Juilliard School, New York) and Japan. He's been tutor and conductor with the EUBO (European Union Baroque Orchestra). In 2019 he's been awarded the F.Abbiati prize as best soloist of the year.
Zum Vergrößern der Fotos anklicken.
Jörg Widmann gehört zu den aufregendsten und vielseitigsten Künstlern seiner Generation. Auch in der Saison 2022/23 ist er weltweit in all seinen Facetten, sowohl als Klarinettist, Dirigent und als Komponist zu erleben, unter anderem als Visiting Composer und Dirigent beim Orquestra Sinfônica do Estado de Sao Paulo, beim National Symphony Orchestra Taiwan, als Residenzkünstler der Alten Oper Frankfurt, bei der Zaterdag Matinee im Amsterdamer Concertgebouw, deSingel in Antwerpen und natürlich beim MKO als Associated Conductor.
Besonders seine Tätigkeiten als Dirigent weitet Jörg Widmann in dieser Saison aus. So ist er unter anderem mit dem Konzerthausorchester Berlin, dem Mozarteumorchester Salzburg, dem Royal Scottish National Orchestra, dem Barcelona Symphony Orchestra und dem Radio Filharmonisch Orkest Amsterdam zu erleben. Langjährige Kammermusikpartner wie Tabea Zimmermann, Denis Kozhukhin, Daniel Barenboim, das Schumann und das Hagen Quartett, werden zusammen mit ihm u.a. bei der Schubertiade Schwarzenberg, in der Philharmonie Paris und dem Wiener Konzerthaus musizieren.
Ausgebildet von Gerd Starke in München und Charles Neidich an der Juilliard School New York war der Klarinettist Jörg Widmann selbst Professor für Klarinette und Komposition an der Freiburger Musikhochschule. Seit 2017 bekleidet Widmann einen Lehrstuhl für Komposition an der Barenboim-Said Akademie Berlin. Er war Fellow des Wissenschaftskollegs zu Berlin und ist Mitglied der Bayerischen Akademie der Schönen Künste, der Freien Akademie der Künste Hamburg (2007) und der Akademie der Wissenschaften und der Literatur Mainz (2016).
Komposition studierte Jörg Widmann bei Kay Westermann, Wilfried Hiller, Hans Werner Henze und Wolfgang Rihm. Sein Schaffen wurde vielfach ausgezeichnet, zuletzt mit dem renommierten, nur alle zwei Jahre verliehenen Stoeger Prize der New Yorker Chamber Music Society of Lincoln Center (2009). Dirigenten wie Daniel Barenboim, Daniel Harding, Kent Nagano, Christian Thielemann, Andris Nelsons und Simon Rattle bringen seine Musik regelmäßig zur Aufführung. Orchester wie die Wiener und die Berliner Philharmoniker, das New York Philharmonic, Orchestre de Paris, BBC Symphony Orchestra und viele andere haben seine Musik uraufgeführt und regelmäßig in ihrem Konzertrepertoire.
Mit Esprit und undogmatischer Offenheit empfiehlt sich Bas Wiegers am Pult renommierter europäischer Orchester und Solistenensembles. Für seine detailgenaue Arbeit schöpft der Dirigent aus seiner langjährigen Erfahrung als Geiger und seiner fundierten Repertoirekenntnis vom Barock bis zur Musik von heute.
Genau diese programmatische Bandbreite soll in seiner neuen Funktion als Associated Conductor des Münchener Kammerorchesters, die mit der Saison 2022/23 beginnt, zum Ausdruck kommen. An der Oper Bern leitet er zur Saisoneröffnung eine Uraufführung von Georg Friedrich Haas und mit dem Klangforum Wien, dessen erster Gastdirigent er bis Sommer 2022 war, ist er bei den Tiroler Festspielen Erl (Regie Jan Lauwers) zu Gast. Des Weiteren kehrt er auf das Podium des SWR Sinfonieorchesters und des Radio Filharmonisch Orkest zurück.
In seiner niederländischen Heimat arbeitete Bas Wiegers u.a. mit Netherlands Philharmonic, Rotterdam Philharmonic und dem Royal Concertgebouw Orchestra. Zudem gastierte er beim Rundfunk-Sinfonieorchester Berlin, WDR Sinfonieorchester, Estonian National Symphony Orchestra, und dem Konzerthausorchester Berlin, sowie auf Festivals wie Wiener Festwochen, Prague Spring Festival, Huddersfield Contemporary Music Festival, Aldeburgh Music Festival und Ruhrtriennale. Operndirigate führten ihn wiederholt an die Oper Köln, Nederlandse Opera, die Opéra national de Lorraine, und das Theater Klagenfurt.
Bas Wiegers ist ein geschätzter Partner für Komponisten wie Georges Aperghis, Georg Friedrich Haas, Helmut Lachenmann, Salvatore Sciarrino und Rebecca Saunders.
Im Anschluss an seine musikalische Ausbildung in Amsterdam und Freiburg widmete sich Bas Wiegers zunächst seiner erfolgreichen Karriere als Geiger mit Schwerpunkt in der historischen Aufführungspraxis. 2009 wurde er mit dem Dirigentenstipendium der Kersjes Foundation ausgezeichnet. Es folgten Assistenzen bei Mariss Jansons und Susanna Mälkki beim Royal Concertgebouw Orchestra, die ihn darin bestärkten, sich gänzlich auf das Dirigieren zu konzentrieren.
BELMONT PRIZE FOR SARAH ARISTIDOU
Belmont Prize 2022 for Contemporary Music
Nominated Prizewinner Sarah Aristidou
Awards ceremony
Thursday, 10. Nov. 2022, 6.30 pm, Gartensaal at Prinzregententheaters, Munich
Following: 2. concert at Prinzregententheater with Sarah Aristidou (soprano) und Bas Wiegers (conductor)
For the first time in its history, the Belmont Prize for Contemporary Music, with its € 20,000 endowment, is being awarded to a vocalist: the French-Cypriot soprano Sarah Aristidou. Every note she sings, to quote the foundation's board of trustees, is meticulously thought out and manifests razor-sharp intelligence, expression and sensuality. The awards ceremony will take place in the Gartensaal of the Prinzregententheater in Munich on 10 November 2022, at 6:30 pm.
Just a few days ago, on 26 June, Sarah Aristidou thrilled audiences at the Oper Frankfurt, singing Nausicaa in the première of Luigi Dallapicolla's Ulisse. Her great potential quickly became evident at the International Studio of the Staatsoper 'Unter den Linden' (2017-19), where she impressively sang the classical repertoire, particularly Zerbinetta in Richard Strauss's Ariadne auf Naxos. As early as 2015, while still a student, she appeared in several world premières of works by composers such as Wolfgang Rihm and Manfred Trojahn. Aribert Reimann composed his Cinq fragments lyriques especially for her, and in 2018 she stood out at the Bregenzer Festspiele in the world première of Thomas Larcher's Das Jagdgewehr (a live recording was released on DVD in 2020). She has twice been nominated 'Best Newcomer' by the trade journal Opernwelt.
Sarah Aristidou likes to push things to the limits, as Jörg Widmann put it at the world première of his Labyrinth IV (2019), where she amply demonstrated her formidable vocal range and impressive skills to composer and audience alike. To quote Widmann: 'I don't believe the piece would have been possible without her and her spectacular command of the stratospheric altissimo register'.
Sarah Aristidou's artistic freedom is highlighted on her first album Æther, released in 2021. The album alludes to the 'fifth element' that seeks to cross boundaries between epochs, and it features works from Handel to Varèse, from Debussy to Adès, accompanied by such stellar musicians as Daniel Barenboim and Emmanuel Pahud. Outside the classical scene, in late 2021 she recorded Cypriot folksongs with the German-Turkish composer and sound-sculptor Kaan Bulak; together they produced a remix with Ricardo Villalobos and Ale Hop.
Born in Paris in 1991, Sarah Aristidou began her musical training in Maîtrise, the children's chorus of Radio France in Paris. She took a degree in musicology at the Sorbonne and another in music theory at the Conservatoire de Paris, after which she studied opera singing at Berlin UdK. In 2016 she received a master's degree from the Hochschule für Musik und Theater München and the Theaterakademie August Everding, where she studied with Christiane Iven.
Sarah Aristidou likes to push things to the limits and explore new terrain while taking good care of her voice. After all, she explains, 'there's no problem at all as long I do it with the right intention and proper technique'.
Additional Information: www.sarah-aristidou.com • www.forberg-schneider.de
Media and Public Relations Belmont Prize: Susanne Römer • kulturkontor.roemer, belmont-preis@kulturkontor-roemer.de
Tel. +49-4103-923 68 71
Mob. +49-162-984 66 59