MKO 'In The Neighbourhood'
With our music video project 'In The Neighbourhood' we bring music to unusual places and bring our audience closer to very exceptional works.
If you don't want to miss any of our new videos, just subscribe to our Youtube channel!
MKO x Christian Tetzlaff
Himmelfahrtskirche Sendling
We definitely succeeded in finding the good in the crisis with violinist Christian Tetzlaff. In May, we had the opportunity to dive into music by Frank Martin and Wolfgang Amadeus Mozart with him. The result is a glimpse into the rehearsals along with impressions of orchestra members and the soloist and conductor Christian Tetzlaff.
The Munich Chamber Orchestra led by Christian Tetzlaff plays Frank Martin's "Polyptyque" for violin and two small string orchestras and Adagio and Fugue in C minor, KV 546 by Wolfgang Amadeus Mozart.
Adagio und Fuge c-Moll, KV 546 von Wolfgang Amadeus Mozart.
Jestl in der Buchhandlung Lentner
Altstadt
"Under the impression of the beginning pandemic and the agonising first lockdown, I wrote this piece in one day: I did not write what I wanted, but what came to my mind – that is a difference – no tone was changed afterwards, what was valid was the direct determination of a "foreign" hand guiding my pen," says the composer and MKO violinist Bernhard Jestl about his Prelude. It was recorded by his colleague Andrea Schumacher in the lockdown silence of the traditional bookshop Lentner in Munich's City Hall on Marienplatz.
With Konstantin Krimmel at Künstlersekretariat am Gasteig
Bogenhausen
Together with musicians from the Munich Chamber Orchestra, the baritone and winner of numerous song competitions sings the sombre ballad "Der Zwerg" by Franz Schubert and Brahms' Feldeinsamkeit op.86 Nr.2. Both arranged by Bernhard Jestl for string quintet.
MKO x Enrico Onofri in Sendling
Which elements of baroque music have survived the centuries of compositional history?
Together with the Italian conductor and violinist Enrico Onofri, a programme was created to answer this question. This resulted in videos with Ottrino Respighi's work "Antiche Danze – Suite Nr.3" and Stravinsky's ballet music "Apollon Musagète". The short documentary lets you look behind the scenes of the collaboration.
With Dessner at the Museum of Urban and Contemporary Art
Altstadt
In the middle of Munich, at the Museum of Urban & Contemporary Art, we were invited to play Bryce Dessner's quartet "Little Blue Something". Our only audience were the "Shadowmen" by painter and graffiti artist Richard Hambleton.
Dvořák at the climbing gym
Thalkirchen
Malickosti (Bagatelles) op. 47 No. 5 by Antonín Dvořák (1841-1904)
Dvořák composed his Bagatelles in May 1878, the year of his international breakthrough. With their flexible instrumentation, the pieces were aimed at the sheet music market for house music, which was not only a popular source of income but also for public recognition. We did not stay at home with the Bagatelles, however, but took them to the DAV climbing hall in Thalkirchen.
Mit Double Drums in der Autowerkstatt
Sendling
Schumann im Schumann's
Hofgarten
Tanejew m Hallenbad
Dachau
Beim Friseur und Barbershop
Giesing
Mit Mendelssohn und Widmann in der Kirche
Sendling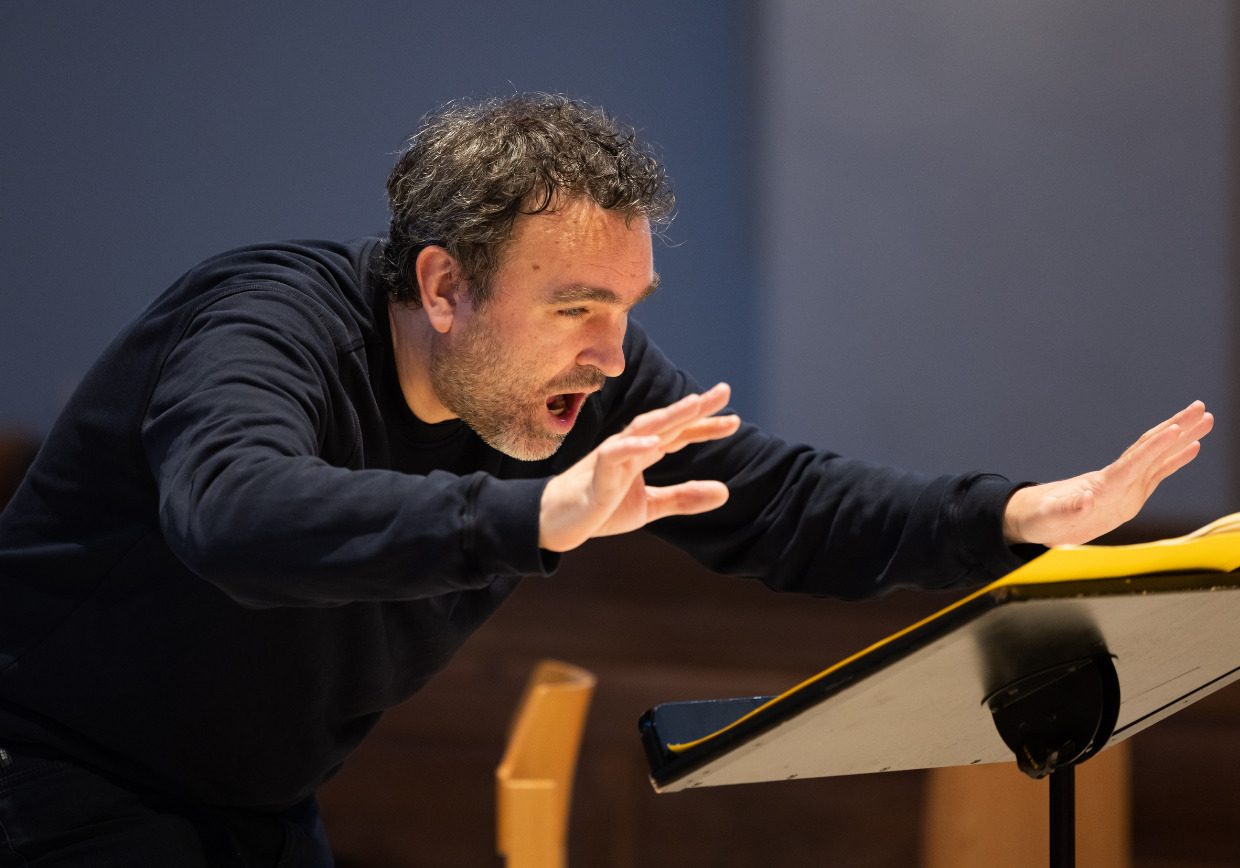 Im konzertlosen Januar konnten wir die Zeit nutzen, um uns zusammen mit unserem langjährigen musikalischen Partner Jörg Widmann vier Tage lang Werken von Mendelssohn und Widmann zu widmen. Entstanden ist eine kleine Dokumentation zu dieser Zusammenarbeit, den gemeinsamen Proben und der Entstehung eines Programms für ein Konzert im Corona-Format.
Ravel beim Instrumentenbauer
Altstadt-Lehel
Noch nicht zurück im Konzertsaal aber auch nicht still: In ein ungewöhnliches Setting hat es Konzertmeisterin Yuki Kasai und Cellistin Bridget McRae verschlagen: Die Werkstatt des Luthiers Vinzenz Bachmayer. Hier spielen sie uns den sehr lebendigen zweiten Satz von Maurice Ravels "Sonate für Violine und Violoncello", geschrieben "A la mémoire de Claude Debussy".
Dass wir diese Filme drehen konnten, ist einer Reihe von Zufällen geschuldet. Am Ende könnte man fast sagen, der Corona-Virus ist schuld. Es grenzt an ein Wunder, dass so viele Leute so schnell zusammen gearbeitet haben, ihre Expertise, ihre Zeit, ihre Location und ihre Unterstützung bereitstellen konnten. Ohne den Virus hätten alle etwas anderes gemacht, gespielt in München, gedreht in London, gearbeitet in einem noch existierenden Restaurant und so fort. Aber so wie's war, konnten wir schöne Videos machen!


Górecki in der Villa Stuck
Bogenhausen
Das Münchener Kammerorchester und das Museum Villa Stuck präsentieren gemeinsam eine außergewöhnliche Musikaufnahme aus dem coronabedingten Lockdown. Am letzten Wochenende, an dem die historischen Räume der Villa Stuck für das Publikum geschlossen waren, spielten drei Musiker unter der Leitung des Dirigenten Clemens Schuldt Henryk Góreckis Werk "Genesis I: Elementi" aus dem Jahr 1963 ein.
Den für uns alle so allgegenwärtigen Mindestabstand setzt Henryk Górecki (1933-2010) in "Genesis I: Elementi" als Abstandsvorgabe zwischen den Musikern gleichsam in Musik um: Die drei Instrumente sowie der Dirigent sollen laut Partitur zwischen 6 und 12 Meter auseinander stehen, wie in einem großen Dreieck. Das Werk ist dezidiert kein "Trio" im Sinne eines kommunikativen Miteinanders; blockhafte Klänge wechseln mit harten, sich unterbrechenden Dialogen, strenge Fugati mit improvisiert wirkenden Einzelaktionen. Kein romantisierendes Verschmelzen der Streicher, sondern ein Auffächern und Sichtbarmachen der Klänge und Aktionen sind das Ziel.
Die historischen Räume der Villa Stuck waren für eine Aufführung dieses Stückes geradezu ideal: durch ihre Raumanordnung, ihre wunderbare Akustik sowie durch die einzigartige Atmosphäre. Der ehemalige Speisesaal der Künstlervilla Franz von Stucks und dessen Gemälde bilden einen spannungsvollen Kontrast zur Musik – ein Münchner Gesamtkunstwerk aus der Zeit um 1900 trifft auf die schroffen, seriell geformten Klangfarben des Polen Górecki.
Das Museum Villa Stuck, das schon mehrfach Ort von höchst lebendigen gemeinsamen kammermusikalischen Aktionen mit großem Publikumsandrang war, und das Münchener Kammerorchester fanden auch in dieser Ausnahmesituation wieder als kongeniale Partner zusammen. Unser gemeinsamer Dank gilt vor allem auch der großzügigen Unterstützung dieses Projekts durch den Villastuckverein, der bereits mehrfach die Aufführungen des Münchener Kammerorchesters in der Villa Stuck gefördert hat.
Nach dem letzten Takt schreibt Henryk Górecki in sein Manuskript: ENER