Season 20|21 ›NEIGHBOURS‹
Dear audience, dear friends of the MKO

When we talk about the 'nice neighbour next door', we are talking about community, cohesion and mutual helpfulness on the one hand, but on the other hand we also think about the need for distance and the dividing wall between us. In recent years there has been much discussion about border fences as a symbol of separation or isolation.

The ambivalence and scope of the subject of neighbourhood is wonderfully articulated in Robert Frost's poem 'Mending Wall': the lyrical self answers the pithy statement 'Good fences make good neighbours' with a fundamental question: 'Why do they make good neighbours? (…) Before I built a wall I'd ask to know / What I was walling in or walling out, / And to whom I was like to give offense, / Something there is that doesn't love a wall, / That wants it down. The idea that the wall not only forms the protective space of the individual, but also represents a restriction, even a threat, is the poetic-subversive objection of an art that would rather tear down social barriers and is committed to social utopia.
In our new season, we want to shed light on both obvious and hidden neighborhoods between works, composers and countries, to examine conflict-ridden or idealized neighborhood relationships between states and social groups, and thus once again demonstrate that music per se is never unrelated. Rather, it reflects the ambivalence of the theme in the very moments of its creation: the compositional process is hardly conceivable without isolation, isolation and concentration, while the performance in concert ideally takes on the character of a shared experience.
The prototype of an idyllic, seemingly conflict-free neighbourhood – anyone who knows Juli Zeh's 'underlings', for example, understands 'seemingly' here particularly well – is the village community. Over the past centuries, a number of dances and songs have developed there, joint processions and popular festivals are part of the tradition. This ideal and its pure opposite, the (self-)destruction of peaceful coexistence through civil war, appears in the opening piece of this season, 'Three Places in New England', in which Charles Ives quotes both folk and war songs.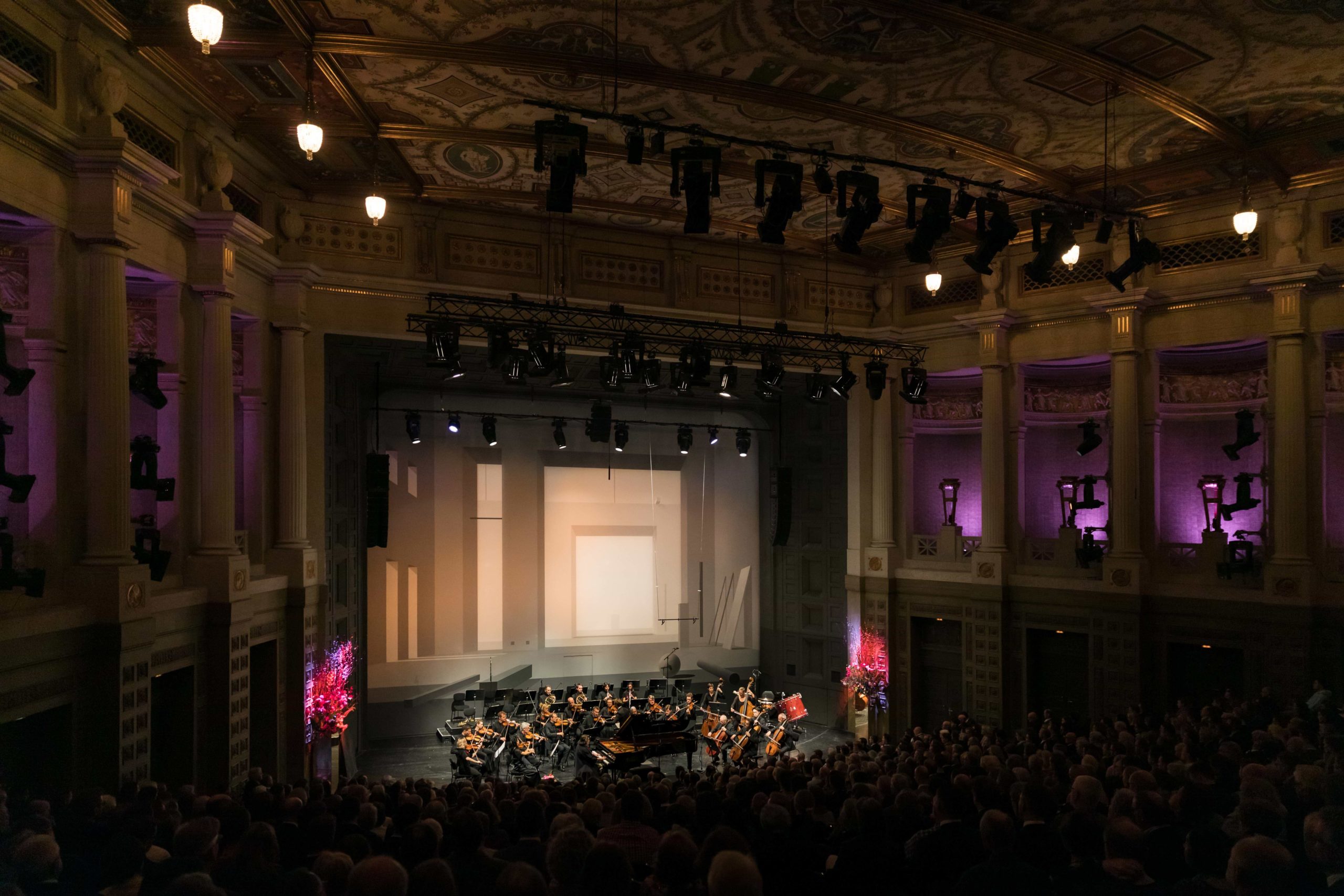 We want to build bridges with musical means when we juxtapose works from countries that were once separated or are still in the most difficult relationships with each other today: Georg Katzer is an exciting representative of the musical culture of the former GDR, which has almost completely disappeared, and the friendly succession of music by the Armenian Tigran Mansurian and the young Turkish composer Mithatcan Öcal is a symbolic 'defiance' of the heavily burdened history between the two countries. The joint concert with the French 'Ensemble intercontemporain', with whom we are starting a long-term partnership, will be a highlight and a visible bridge-building.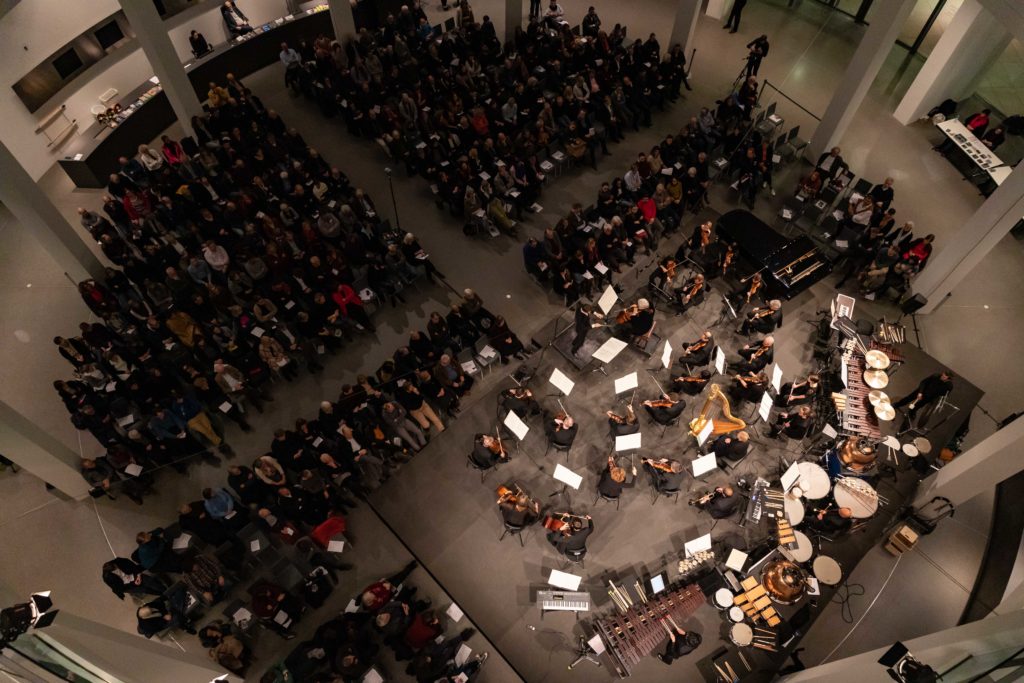 Of course, there are also neighborhoods in the artistic-ideological realm: Jörg Widmann relates himself and his work in his concert program to Schumann and Mendelssohn in a variety of ways. Márton Illés' new violin concerto 'Von-tér' for Patricia Kopatchinskaja, which we had to cancel this season, finds a new date in a Moravian-Austrian-Hungarian programme with Haydn, Ligeti and Janácek. Further commissioned works are Beat Furrer (violin concerto for Ilya Gringolts), Thomas Adès, Juste ̇ Janulyte ̇ , Hans Abrahamsen and Mithatcan Öcal.
The double role of the neighbour is taking on a completely new connotation in today's world, spring 2020. The world is experiencing a pandemic of unprecedented proportions and is confronted with a virus which is implanting itself in neighbourly relations and using every form of social or cultural interaction as a vehicle for its spread. The neighbour, the friend, the people in the immediate vicinity can be just as helpful as they are a potential threat as carriers of this as yet unexplored pathogen. As so often, society reacts Janus-faced: selfishly in the form of hamster purchases and apocalyptic 'corona parties', but also in solidarity in the form of neighbourly help and lived solidarity. The crisis not only reinforces the positive as well as negative qualities of people or communities, it also makes us aware that without social responsibility and the fundamental appreciation of human life, the cultural sector would jeopardize its right to exist.
But this period of forced social distance also makes us all aware of how important community experiences are and how natural they were for us for years. As wonderful as the many digital cultural offerings are: Nothing can replace the physical experience in a concert, the electrified hall, the tension on stage. We, the Munich Chamber Orchestra, would like to express our special thanks to all public and private sponsors, friends, subscribers and concertgoers who help us to survive this extreme situation and keep up our great hope: The hope of being able to play for you again as soon as possible!
Sincerely yours
Clemens Schuldt, chief conductor
Florian Ganslmeier, managing director