CHILDREN'S CONCERT ›Strings 'n' drums‹
›FROSY, FIERY, ROUSING‹
cancelled – new concert date on March 7th 2021, 4 p.m.
Due to the corona crisis we had to cancel our children's concert on March 15th 2020. Fortunately we found a new date for ›FROSTY, FIERY, FURIOS‹
March 7th 2021, 4 p.m.
All tickets will be valid for the new date. The oercussion duo Double Drums and the orchestra would be glad to welcome you at the new date as well!
In case you cannot come to the concert on the new date you have two options
You want to donate the prize of your purchase entirely or partly to the orchestra?
Please send an e-mail to ticket@m-k-o.eu. Thanks to your donation we can keep up our music projects with schools and pre-school children. You will of course receive a donation receipt.
You wish our tickets to be refunded?

Please send an e-mail to ticket@m-k-o.eu (before June 30th 2020) and send our tickets back to the following address:
Münchener Kammerorchester
Oskar-von-Miller-Ring 1
80333 München
Our box office is closed at the moment. As soon as we are back in the office we will process your refund. This process may take a considerable time. We thank you in advance for your patience and understanding.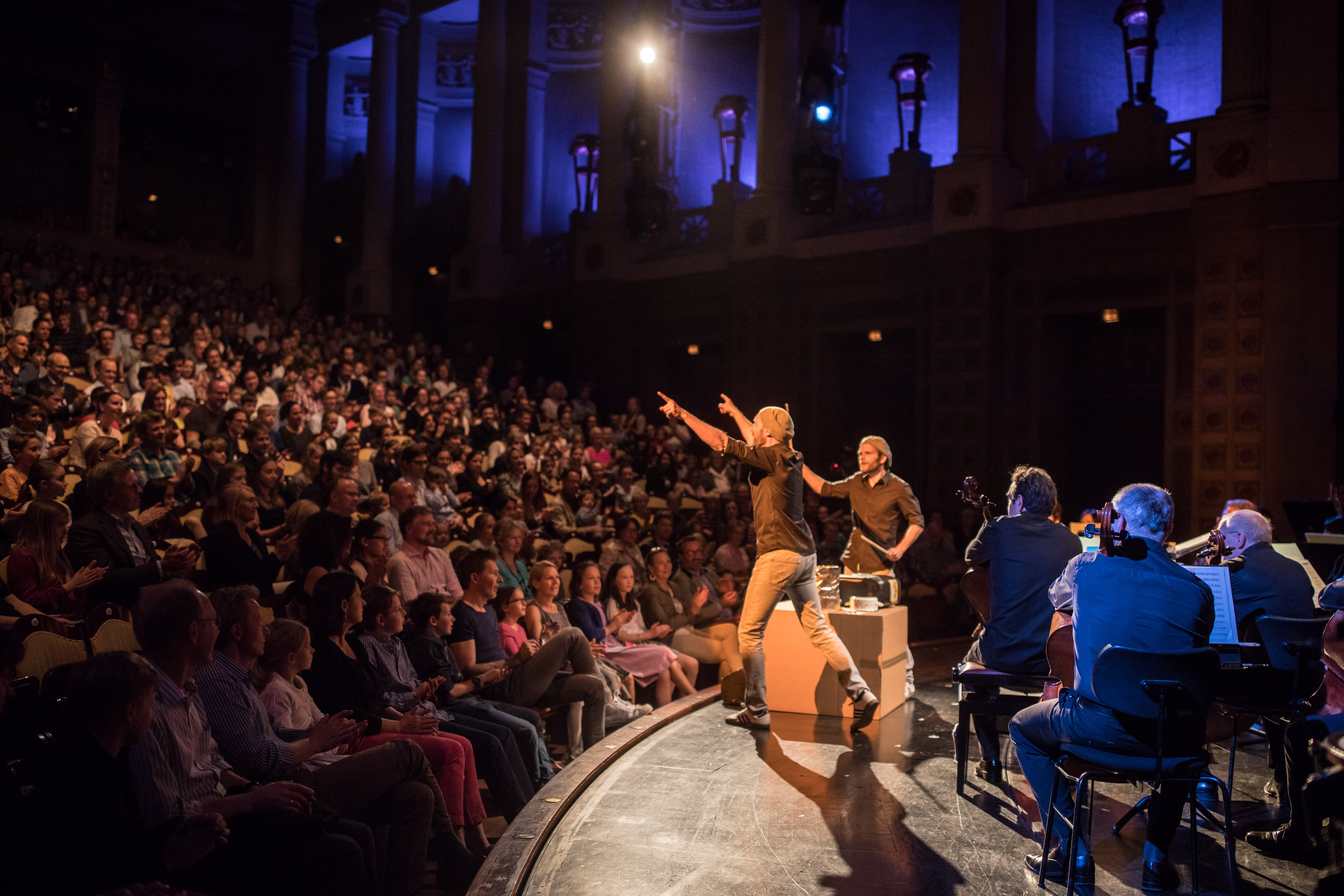 Zittern bei klirrender Kälte – das kennt ja jeder. Aber wie klingen Eiszapfen, Schneegestöber oder Frost? Kann man denn überhaupt Musik machen, wenn einem kalt ist? Gibt es Musik, die die Ohren wärmt? Zum Dahinschmelzen ist? Und wie heiß wird einem, wenn man Musik aus Lateinamerika oder Afrika hört? Diesen und vielen anderen Fragen geht das MKO gemeinsam mit Double Drums im Kinderkonzert am 15. März auf den Grund. Dazu bringt das Percussion-Duo Alexander Glöggler und Philipp Jungk jede Menge Instrumente aus allen Ecken und Temperaturzonen der Erde mit – ob Djembe, Kalimba, Marimba oder Cajon – ganz zu schweigen von der heimischen Bohrmaschine, der Haushaltsleiter und Blechdose. Gemeinsam mit den Musikern des MKO und seinem Chefdirigenten Clemens Schuldt wird daraus regelrecht ein Feuerwerk. Und mit dem richtigen Rhythmus wird jedem im Saal warm! Wenn nicht kochend heiß. Versprochen.
In jeder Saison widmet das Münchener Kammerorchester mit dem Kinderkonzert den jungen Hörern ein eigenes Konzert. Dabei hat das Orchester bereits mit vielen Partnern zusammengearbeitet. Darunter die Schauburg und FRÄNZCHEN, das Jugend- und Kinderprogramm des Museum Villa Stuck. Schon zum zweiten Mal tritt das Percussion-Duo Double Drums gemeinsam mit dem MKO auf die Bühne – dieses Jahr passend zum Motto der Saison ›Wärme‹. Jedes Jahr findet eine ganz neue musikalische Reise auf der Bühne des Prinzregententheaters statt und das Kammerorchester begrüßt die jungen Zuhörer in seinem Konzertsaal, in welches die "Großen" zu den Abonnementkonzerten kommen. Für Kinder gibt es einen besonders reduzierten Preis und mit der ›2+2-Karte‹ können nicht nur Eltern die Kinder mit in ihr Konzert begleiten.
Impressions from our last family concert SCHOSTAKO – WAS?
with
CLEMENS SCHULDT conductor
DAVID BENITO GARCIA actor
AMADEUS WIESENSEE piano
MATTHEW SADLER trumpet
BRUNO FRANCESCHINI direction
TILL RÖLLE Schauburg LAB/direction
in cooperation with Schauburg – Theater für junges Publikum der Landeshauptstadt München